Latest News on Dewi Sandra
"Marriage is not always beautiful"
In the world of Dewi Sandra now, troubles are perceived as the game of life. Instead of warding off the nuptials issue she's facing, the presenter and singer who's also in high demand as the model for lots of cosmetic products, shares her positive perspective. With optimistic and full spirit, the 28 years-old tells about love, marriage, and sacrifice.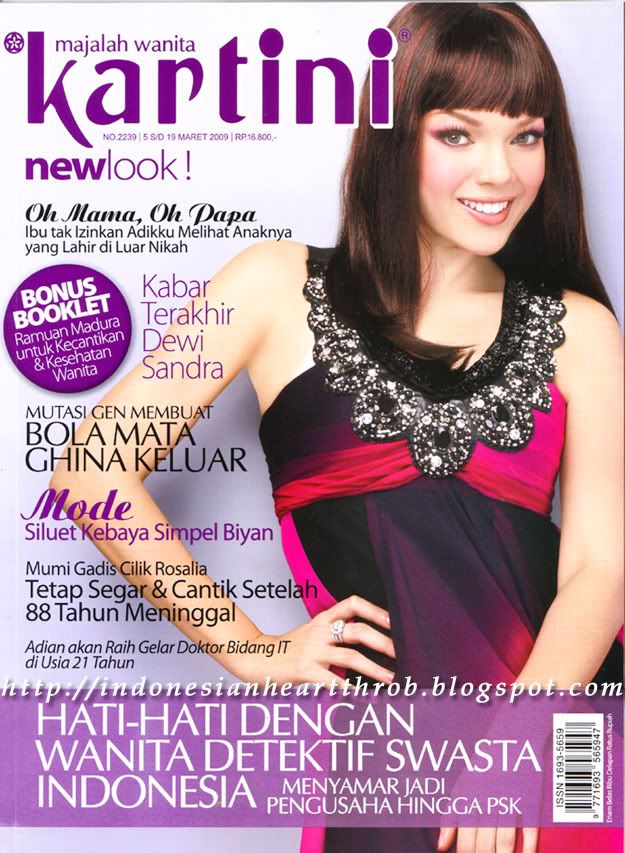 You still look cheerful despite the issue about your marriage which has been stirringly reported. How come?
I never want to think about that matter. I'm invulnerable. I've been living with that news for years, so I'm just going through the life by keeping (my) positive thinking. I don't want to drown in sorrow. The problem is there to be solved immediately, not just to be grieved upon. Most importantly, we must try. I believe God will never let us sink.

How important the surrounds sportive to you?
Very important. When you live in the negative environment, you can be negative too. Positive environment turns us to be positive. I was still young on my first marriage, still wanted to win myself, and still couldn't choose the right friends. When I told my problem to friends, they suggested me to just get divorce. But now is different. I'm able to choose friends or my surrounds. Good environment will not encourage us to a divorce.
My husband is the best teacher to make me become better. I'm very grateful for that. Besides, I should commit to my marriage as well, since I got married not because I was forced to. I decided it by myself, so I cannot be swaying with the wind. I will not change my mind in the middle of our journey.

Does it mean you're going to keep the marriage up?
I must. With the support of my family and surrounding, I will keep fighting to carry on this marriage.
With all the fluctuation of problems that exists?
No marriage will be happy from the beginning until the end. It only happened in fairy tale. The marriage trial begins just when we're getting married, either on my first or second marriage. I'm sure that every marriage will face trials. Even in king's marriage that has everything. That's why you'd better think wise before you decide to get it on.

Learning from the failure of the first marriage, and now the trouble in your second one, how do you sense a marriage?
Marriage is learning. Don't fall into too much high expectation and hope. Hoping that your husband will go home earlier, or have candle lit diner together, and then you feel disappointed. What about we thinking of giving, it would be different.
On one of the media, Glenn admits separate house. Is that true?
To me, the news on the media saying that we've separated house, is not important. Everybody has his own way to solve the problem. I will not talk about whether or not we separated house.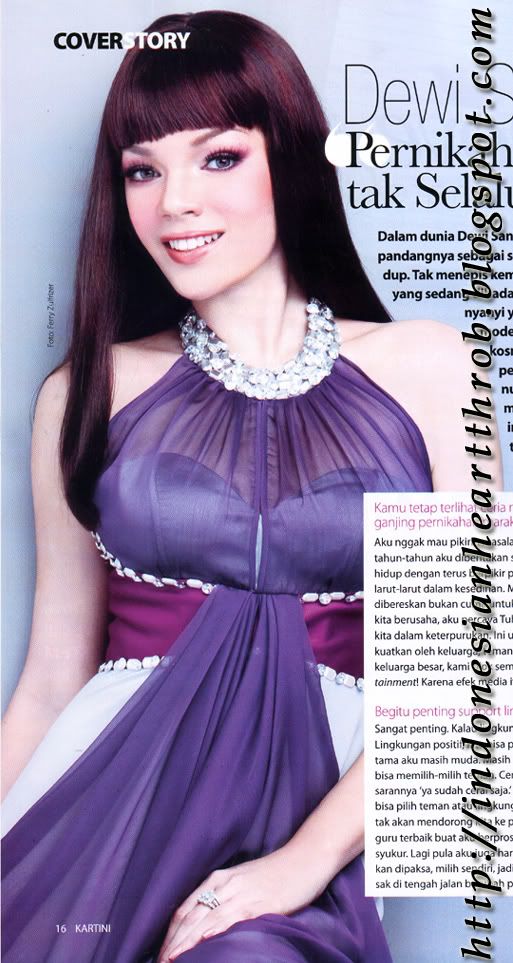 It is said that marriage would go well only if there's the same spirit and determination from husband-wife to keep it. Does Glenn have the same spirit?
First, I and Glenn feel that although we're not together, we're still husband and wife. I'm positive, if God blesses we will arrive to a point that best for both of us. I'm convinced we have the same perception, yet to get onto this particular point needs a process. I'm so sure it will make a good final.
Every marriage is so beautiful, sacred. Promise before God and witnessed by many people. It doesn't feel right when something so beautiful must run aground. Marriage is an extraordinary institute like a jewel. The more it gets polished, the more shining it becomes.

Have any special advice for those who want to get married?
Marriage doesn't engage just husband and wife, but two families together. So give yourself a good consideration before you decide to do it. And marriage is identical with sacrifice. My friend, who's just married recently, said the best thought of marriage is 95 of giving and 5 percent of taking. Don't expect 50-50 since you're going to be disappointed. Beautiful things could only happen if we're ready to give.
Do you believe in soulmate?
I used to believe and convinced that soulmate was the one who would become our spouse. But now, with all my experiences of life, I feel that soulmate is in our very own soul. We must complete our soul first before we're able to make complete other people's soul. Don't expect others will give us happiness. Make yourself happy first, and then you can give happiness to the others.
***
Kartini, March 2009
PS: Just today we heard Glenn has filed a divorce. We don't know what exactly is going on between the two, but we wish them all the best and may they find the best solution.